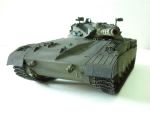 In 1948, one of the many problems facing the new Jewish state of Israel was a total absence of armored fighting vehicles, and the restrictions applied to nations who had tanks, but were refused the ability to sell them outside of their own countries, made the situation for Israel almost hopeless in obtaining any. They managed to get some derelict Sherman tanks that were going to be scrapped and a few armored cars, but the number obtained was in sufficient for the creation of a viable force. It was these conditions that eventually led to the development of today impressive Merkava line. Following the cease fire of the 1948 war, several dozen Sherman tanks, of all types were purchased from all over the world and standardized on a production line set up in Israel, and designated the M-50 Sherman. Later, they were able to purchase the Bristish Centurion tank which went on the same production line for rebuild to their own specifications. The country was still dependent upon other countries products for their armor needs, and often, due to situation beyond the control of Israel, they were denied shipments of requested items. The production line was receiving requests for modifications of M48 Patton tanks as well as Soviet T54 and T55's.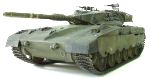 Following the six day war General Israel Tal, felt an urgent need for a self sufficiency in major weapons need such as aircraft and tanks, due to the serious cutbacks in resupply from leading nations. He became obsessed by the idea of building tanks in Israel, and although backed by some military experts, he was regarded with some suspicion and doubt by others. Here, with feverish ardour and imagination General Tal started the venture which in nine years produced the remarkable Merkava.
The Merkava is manned by a crew of four and its main armament is the 105mm M64 L71A tank gun, with secondary armament of a 7.62mm co-axial machine gun located in a vertical armored slit in the turret and two additional LMG's on the commanders hatch and the loaders hatch, these are used for close in combat and against low flying aircraft.
The driver is located to left of the power pack and can enter the rear compartment by lowering his seat back. The fighting compartment extends the whole width of the hull and is air conditioned for crew comfort in the desert environments, it was designed to operate in.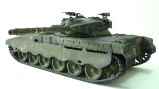 Engine is a Teledyne Continental AVDS-1790 V-12 Diesel which produces 900 hp. Operating in the southern deserts, the Merkava crews enjoy hitherto undreamed of comforts. Cooled water from a container installed at the rear provides water for drinking through a special pipe into the turret. In hot weather this is an absolutely vital necessity, making all the difference in the fighting capability of the crew. With the troop carrying capability, via the large rear door, the Merkava is truely one of the most modern and versatile armored systems in the world and was extensively proven in the field of combat against the highly touted T-72 Soviet armor used in the recent Lebanon conflict.
(From Tamiya Manual)
Specification :
Country of Origin :


Crew : 4
Armament : 1x105mm, 1x7.62mm MG (coaxial), 2x7.62 mm MG(AA), 1x60mm Mortar
Ammunition : 62 x 105mm,10,000 x 7.62mm
Engine : Teledyne Continental AVDS-1790-6A V-12 diesel developing 900hp
Length gun forwards : 8.63m
Length hull : 7.45m
Width : 3.7m
Height over turret roof : 2.64m
Power-to-weight ratio : 14.28hp/tonne
Maximum road speed : 46km/hr
Fuel capacity : 900 lit.
Vertical obstacle : 0.95m
Trench : 3m
Armor : Classified
NBC system : Yes
Height overall : 2.885m
Ground Clearance : 0.47m
Weight, combat : 63,000kg
Weight, empty : 61,000kg
Ground Pressure : 0.9kg/cm²
Maximum road range : 400 km
Fording : 1.38m, 2m with preparation
Gradient : 70%
Side slope : 38%
Armor type : Laminate/steel/space
Night Vision Equipment : Yes