PzKpfw I (MG) Ausf B Sd.Kfz. 101
In 1933 the Reichswehr issued a contract to the main firms of the German heavy industry (Krupp, Mann, Henschel, Daimler-Benz, Rheinmetal-Borsig) for the development of a light tank based on a Carden Lyod chassis. The Krupp's prototype was chosen for full production, even by the other firms.
At first, this tank was called - Landwirlshaftliger Schlepper : LaS i.e. Agricultural tractor for security reasons, then it was officially named Panzer I.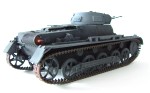 The whole production of the A & B versions began in 1934 and continued till 1939, up to 1,900 units of the Panzer 1 being produced, the majority of which were B models.
The Panzer IB, a derivative of the A version, was fitted with a more powerful water-cooled Maybach NL 38 TR engine. In order to fit the larger engine, it was necessary to increase the hull and chassis sizes; besides a road wheel was added to each side of the running gear and the rear idler - wheels were raised from the trailing position. As a result of the modifications the tank had a much improved ride and was relatively faster. Different versions based on the Panzer IB chassis were produced, among which a command tank and two self propelled vehicles armed with a 150mm gun or a 47mm gun.
The Panzer IB was widely used by the Condor Legion during the Spanish Civil War and later by the Wehrmacht, which employed it in the Campaign of Poland, France and Norway, during the first years of World War two, some units of the "B" version took part even in operation on the African and Russian theatre.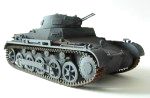 Specification :
Manufacturer :
Henschel, MAN, Daimler-Benz, Krupp-Gruson, Wegmann
Chassis number : 10478-16500
675 produced from August 1935 to June 1937
Crew : 2 men
Armament : 2 x 7.92 MG - 13
Ammunition : 2,250 Patr. SmK
Traverse : 360° hand
Elevation : -12° +18°
Sight : TZF2
Engine : Maybach NL 38 TR
Gear Box : 5 forwards, 1 reverse
Radio : FuG2
Weight : 5.8 Kg
Length : 4.42 m
Width : 2.06 m
Height : 1.72 m
Max. Speed : 40 Km/h
Range : 170 km