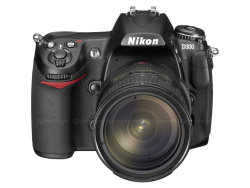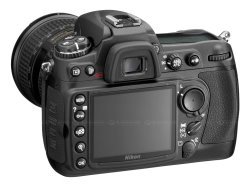 Photo courtesy from Digital Photo Review



Nikon D300


Nikon is pleased to announce the D300 digital single lens reflex (D-SLR), a camera that sets new standards of compact professional performance. The easy-to-use DX-format D300 offers outstanding image quality, multi-functional technologies and fast response. With class-leading 12.3 megapixel resolution, speedy 6 fps frame advance, self-cleaning sensor unit and high definition 3" VGA LCD display, combined with Nikon's legendary durability, the D300 is a breakthrough solution for photographers searching for an advanced compact SLR.
"Packed with the latest technologies and Nikon's renowned ergonomics, the D300 sets a new standard for professionals on a budget," said Robert Cristina, Brand Manager, Nikon Professional Products, Europe. "The D300 is a true 'go-anywhere' camera, delivering fast response, high performance and ease of use that will appeal to anyone serious about their photography."
Speed and Performance
The D300 is loaded with the latest professional technologies designed to produce images of the highest quality. The high-resolution 12.3 MP DX format CMOS sensor generates image files suitable for almost every type of output, combined with a fast standard frame advance rate of 6fps (up to 8 fps with optional Multi Power Battery Pack). The D300 offers fast power-up, quick response and outstanding flexibility to meet the needs of a wide variety of photographic assignments. The D300 powers-up in just 0.13 seconds, with an almost imperceptible 45 millisecond shutter lag.
Accuracy
The D300 boasts a self-cleaning sensor unit, which vibrates at high frequencies to remove any loose dust on the surface of the sensor's optical low pass filter. The camera has a broad ISO range from 200-3200 plus Lo 1 (the equivalent of an ISO 100) and Hi (ISO 6400 equivalent). Image accuracy is also enhanced by the new Nikon Scene Recognition System, which uses the acclaimed Nikon 1005-pixel RGB colour sensor modified to recognise subjects' shape and position before the image is captured. This also aids the new 51-Point Autofocus system in tracking subjects by their colour, while enhancing the accuracy of exposure and white balance metering. The D300 also offers Live View, which presents photographers with a live image on the LCD screen, with two modes suited to either hand held or tripod shooting. Autofocus is possible in both Live View modes.
Enhanced Images with EXPEED
The EXPEED image processing system is at the heart of the D300's ability to capture and process high definition image data so quickly. The EXPEED system includes both hardware and years of Nikon image processing expertise. The D300 EXPEED system features 14-bit analog-to-digital (A/D) conversion with 16-bit image processing, both of which contribute to delivering results with Nikon's signature 'look and feel' of rich accurate colours, smooth skin gradations and exceptional detail.